Instant Meditation for the Time Starved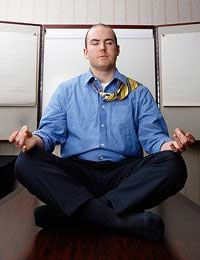 Meditation is generally seen as a contemplative activity spanning between a few minutes and - for the dedicated and well practiced - a few hours. Unfortunately, in today's world the pace is often too fast to allow us to spend prolonged time meditating, assuming the correct positions, and chanting the proscribed mantra's.
Fortunately, meditation is actually quite a simple process and need not take time out of your day, or entail activities that will be uncomfortable or unwelcome in your work setting. Meditation aims principally at the clearing of the mind and at the consequent realisation of a few basic facts - facts that have been concurred with by Western Philosophers and Scientists alike.
The Key to Instant Meditation
For those who have little time for meditation the answer may be to arise at the conclusions delivered by regular meditation, without the actual 'meditation' bit!
Now, it is often said by practitioners of spiritual forms of meditation that there are people who can practice meditation for years and never quite 'get' the message that meditation imparts; namely, that we are all interlinked with each other and with all nature, and so mortality and, indeed, any major life change, need not bring about any fear. We are all interlinked with everything, and are therefore part of the 'eternal', whilst at the same time, in our current state, transitory and impermanent, so there is really nothing to hold on to (in the way of partners and jobs) and nothing to lose!
Now, you may be thinking that this is all great news, but that you are not feeling any different in learning of it! That is because truth's like this need to time to sink in and this is the purpose of meditation. Yet the actual realisation of these truths is said, according the Zen Buddhist, to be instant. It is further said that this realisation of 'truth' is not necessarily met with through years of chanting and sitting in various positions! It can in fact be realised by a gradual everyday observance of things around you and an acceptance of your routine
It is in this kind of acceptance that the basic connectedness between yourself and everything around you is found; at the point when you stop thinking about your 'self' as opposed to everything else, and when you start experiencing instead the situation you are in, in all of its facets - the tastes, smells and sounds that accompany you at any one time.
This is a kind of instant form of awareness, comparable to meditation, that you can practice at any given time, really making it possible for anyone to reap the benefits of 'meditation'. This is not say that a life change will be immediate, but that change can happen through a change in attitude within your daily life, rather than through a complete change in your lifestyle.
Arguably, this kind of approach is comparable to the Buddhist notion of 'mindfulness' or 'vipassana' (see rated articles), yet without requiring am acceptance of terms and practices that might sit uneasily with those unaccustomed to Eastern spiritual practices.
You might also like...