Body Scan Meditation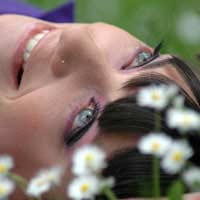 Body Scan Meditation is a form of meditation that can help one to develop a fuller awareness of their body whilst experiencing the connectedness that naturally exists between their body and mind. The exercise is simple and can be conducted on its own or in conjunction with other forms of meditation as part of a wider routine. As with other forms of meditation finding a quiet place where you can meditate regularly will be beneficial.
Scanning Procedure
Starting laying down, either calm your mind using a breathing meditation technique or by repeating a mantra or positive affirmation. Once you have calmed your mind focus upon your breath and feel it rise and all through your body. Once you have become in tune with your body focus on your left toes, feeling the sensations in them over a period of twenty seconds or so.
Following this, direct your attention to the main body of your foot, stopping to concentrate on the sensations you feel there, and from there direct your energies and attentions around the body, up the left side and down the right.
Finally focus on your torso, gradually feeling sensations rise through to your neck, head and crown. Pay particular attention to your face and head, feeling a sense of wellbeing around your mouth and eyes particularly. These are areas intrinsic to smiling – something said to promote health and happiness in itself.
Finish this exercise with a focus on your breathing, falling from your crown to your navel, and rising back upwards again for several cycles.
During this process it is possible to focus upon any areas causing you particular difficulty and visualise them as healed. The meditation process in itself is useful for the eradication of pain. The added visualisation of sensations of wellbeing within troubled areas can further enhance this process.
Complete Relaxation
At the end of this meditation process, feel your whole body at one and completely relaxed. Following this take a while to note the intense discrepancy between the way that body felt at the end of the sequence – refreshed and invigorated – and how it felt before – tense and stressed. Noting this discrepancy will lead you to become more aware of stress as it builds up and will instil the importance of meditation, which when practiced regularly can literally change the way you 'feel' from one day to the next.
This form of meditation is particularly useful for its simplicity and its direct applicability to experience. We all know 'what' we are feeling when we feel out toes, our feet and so on. What we possibly haven't realised is the extent to which we have become distant from our own bodies, as if they are only loosely connected to our minds. In actual fact, just by focusing on one particular body part we can feel its direct link with our brain and – if you like – our spirit. This brings to direct realisation a fundamental tenet of much meditation theory – the mind and body are one.
Further, during complete relaxation we may experience a quite different feeling – the absence of any discernible bodily sensation or distinction between the limbs: This brings to mind in a very real way our connectedness with the wider world as we seen to flow naturally along with our surroundings.
You might also like...
Having practiced other mindful meditations I feel this is the easiest for me & does keep me feeling more relaxed day to day. I try to practice as early in the day as possible otherwise I fall asleep too much. To keep focused I always use a guided meditation.
vonny71
- 30-May-15 @ 3:34 PM