Eating Meditations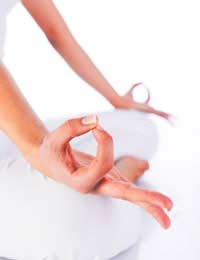 When most people think of meditation, they immediately think of someone sitting cross-legged, perhaps in a special darkened room, with their eyes shut, chanting a repetitive phrase, maybe even with incense burning nearby….but did you know that you can practise a very powerful form of meditation just through the process of eating?
Although perhaps not as well known as 'traditional' forms of meditation, eating meditations have been practised since ancient times and has been especially embraced by the Buddhists and the Jewish Kabbalah faith. While it is simple in practice, it is also one of the most profound forms of meditation and one that seems to be most easily learnt and understood by anyone, regardless of age, culture or religious background. It is also easily learnt by someone with no meditation experience whatsoever. It is, in essence, teaching us to be more sensitive and to "wake up" to the unique miracles of ordinary life.
So how do you practise eating meditation? Here is a very simple version:
Step 1
Select a piece of food. It does not have to be anything fancy – ideally something natural, such as a piece of fruit or vegetable, although you can also choose a crisp or even a piece of chocolate. Choose a size which will fit easily in your mouth.
Step 2
Look at the piece of food – really look at it and feel it in your fingers. What does it feel like? What does it look like? What does it smell like? Focus on the little details – no two pieces of food look the same. Look at it with focused attention and let yourself be 'entranced' by this piece of food, so that you see what you had never noticed before.
Step 3
Now step back and focus on your emotional state and your feelings. Are you feeling hungry? Thirsty? Or maybe you have no appetite? Or even feel repulsed by the piece of food? Maybe you are feeling thankful for this piece of food? Or maybe you're just feeling plain silly to be doing this meditation. It doesn't matter what your feelings are – just become aware of them and acknowledge them but do not judge. Stay focused on the feeling for a few breaths and see if it ebbs or intensifies – or even changes into another.
Step 4
Now start to cast your mind onto the food and what brought it here, into your hand. Think about all the people involved in producing it – from the farmers to the transport people to the factory workers to the store staff. There could be hundreds of people involved in the 'simple' process of bringing this piece of food to you. Imagine what they look like, how they go about their jobs, how hard they work to support themselves and their families.
Step 5
Next turn your mind to a more spiritual or philosophical level. Think about the four elements involved in the creation of this piece of food (fire, earth, air, water) and the genetic information carried in its cells. In effect, you are holding a parcel of energy. Don't be a cynic – embrace the small miracle that is this piece of food.
Step 6
Now put the piece of food in your mouth but don't immediately chew it. First take note of all the sensations as the food enters your mouth – how it feels on your tongue, what it tastes like, the textures, the feeling of your own mouth watering in response. Move it around your mouth and see if the piece of food tastes different in different parts of your mouth. It helps to keep your eyes closed during this process so that your attention is not distracted by other things.
Step 7
Now slowly bite into the food and chew very deliberately. Don't allow yourself any automatic movements. Think about every action you are doing. Know that you are chewing. Slow the mind down so that it focuses and experiences fully.
Step 8
Make sure the piece of food has been thoroughly chewed (at least 20 or 30 times) and see if the flavour changes. Then swallow it slowly and see how long you can feel it in your oesophagus. Don't be in a rush – relax into the sensation of eating – really eating: that is, biting, chewing, swallowing.
Step 9
Sweep your tongue around your mouth and try to retain some of the awareness you had when the piece of food was still there. Is there a lingering aftertaste? Does the inside of your mouth feel different? Do you feel a desire for more food now or do you feel sated?
Try this simple eating meditation every day for a week and you may be surprised at the results. It can be five minutes at each meal – or even just a single bite at each meal. Many of those who have tried eating meditations have been surprised by their experiences, from deep relaxation to insights into their needs, as they learn to become genuinely sensitive to themselves and the world around them.
You might also like...