Object Meditation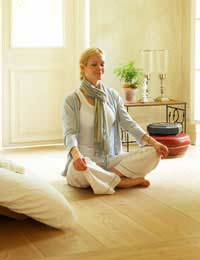 A simple exercise for meditation involves the contemplation of an object of your choosing. Doing this will enable you to better feel your independence from and dependence upon your surroundings. The difference between object meditation and meditation focused upon a religious icon is that the former depends upon no specific set of beliefs. However, despite this, it is possible to choose a religious object for your meditation if you wish. Objects that you may choose to meditate upon include plants and trees, fir cones, candles, icons, curiosities, artworks, and so on.
The Outcome
Meditating on an object and being aware of doing such creates a situation when the distance and barrier between you as an individual and the object becomes effaced. This will only happen after a while and when you are completely relaxed. Once you have let daily fears subside and have stopped thinking about the 'past' and 'future', you will become all that you see immediately before you. At this point you have realised the true connectedness between your self and all objects – a connectedness that leaves yourself intact as the viewer of the object. You are the channel via which you experience the whole world around you.
Doing this exercise in face of an object that you have accorded no real spiritual significance helps to put this realisation into perspective as something that is entirely real and attainable from within our everyday level of consciousness. What's more, experiencing the religious icon as an object amongst others brings us to a close realisation of the role of the spiritual icon as a focus for meditation.
The icon is an object through which we may channel our consciousness of the world around us. Icons can help us to realise out true relationship with objects, yet it need not be felt that they have more power than other objects. In a sense the religious icon is an object that has been designated as having special power to help us realise 'truth'.
The trick is in not becoming unduly indebted with that icon, lest you lose perspective and start to associate just that icon (or similar images connected with its associated religion) with truth and the experience of our connectedness with the object. The trouble with doing so is that the original truth we aim for becomes inverted as special power is given to just one object over all other objects, and, indeed, even over ourselves.
Object meditation is useful for those who wish to experience the truth that meditation show to us, and the calming influence associated with it, without recourse to a higher spiritual ideal.
The Exercise
Object meditation can be conducted in any comfortable position you see fit, which will most likely be seated on cushion or a chair, facing your object, with your weight spread evenly (see associated articles for details on comfortable meditation positions). With your object placed at a comfortable distance from you and in a position where a steady eye level can be maintained, softly focus on your object, making sure to clear your mind by breathing evenly and feeling your breath rise and fall. A ten to twenty minute meditation should be plenty of time, with the exercise being repeated 3 to 5 times a week, or just once a week in conjunction with a series of other meditation forms throughout the week.
Simply observe the object and let the object help you to forget your worries. See the object in all its separate details, and then see it as one whole object. Feel your self linking to the object, as the rest of the world falls away. With your breathing continuing at an even pace simply continue to focus upon the object as your perception of it shifts. If you lose your focus upon the object merely relax as far as possible and let your focus come around again, making a note later of the point at which your focus slipped (see related article on keeping a meditation diary).
You might also like...