Using Meditation To Gain The Instant Calming Sequence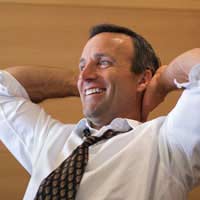 Though meditation is a good way to develop a positive attitude over time, some stressful situations require immediate action in a way that cannot be fulfilled by meditation. This is the case even for many people who meditate regularly. In light of this Dr. Robert Cooper has devised the 'Instant Calming Sequence', which comprises of six simple steps that can be utilised to ward off stressful situations.
The Six Steps
The human body and mind undergo certain changes very quickly when faced with stress. Chiefly these symptoms are: breathlessness, a sense of negativity, a hunched posture, the development of unrealistic viewpoints and attitudes and a loss of control. If stress builds up over time these symptoms can become dangerous leading to listlessness, muscle pains, a bad back and possibly even depression and psychosis. If the six steps of the calming sequence are applied immediately this build up can be halted and even reversed. The six steps are:
Controlled Breathing: Breathe naturally and without interruption as soon as stress strikes. This can be achieved in much the same way as during meditation. Simply focus on your breaths, letting them flow naturally. If you have already lost control of you breathing take a few long deep breaths initially.
Smiling: Cooper argues that in much the same way as happiness induces smiling, smiling can actually induce happiness. When faced with a difficult situation, smile, and you will soon feel better for it. This is particularly useful if your stressful situation involves dealing face to face with other people: Smiling is contagious!
Positive Posture: This works on the same principle of smiling. If you hold yourself as if you are relaxed and confident, your mind will soon adjust and you will feel genuinely comfortable in yourself. You should hold you head up, with your chin in, your shoulders comfortably resting downwards, and balance your weight equally between both feet and hips.
Relaxation: You can induce relaxation by feeling a positive wave of relaxation flowing over your body. This kind of visualisation will convince your mind that all is well. Remember: Everything you feel is a product of your mind, so if you simply feel yourself to be relaxed you will be!
Facing reality: As thoughts start to become distorted you may wish to run from reality. At this point it is necessary to gain some perspective, face up to the crisis in hand, and tell yourself that you are capable of managing with the situation, whatever it is.
Taking Control: Rather than stressing about what you can't control, focus on what control you do have and build from there. Be positive and honest about your situation. Whilst it is possible you could be in some trouble, the key to resolving your problem lays in working around your strengths.
In learning these six steps and rehearsing them you will be equipped to deal with stressful situations as and when they arise. In conjunction with the regular practice of meditation, in whatever way suits you, the Instant Calming Sequence is a powerful tool for realistically taking control of your life.
You might also like...