Journey Meditation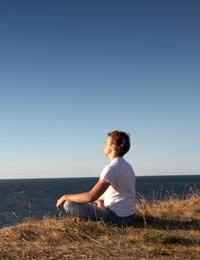 Journey meditation involves the positive visualisation of one's self in a place that naturally brings about a tranquil state of mind. As the human mind is very susceptible to suggestion taking time to visualise yourself in a real or imagined 'ideal place' will serve to contribute to a sense of well being similar to that experienced when you actually spend time in a soothing environment.
The human mind is host to inadvertent and deliberate visualisations throughout the day and night. Often, these visualisations are negative, reinforcing unhealthy and fearful ways of thinking. Taking ten to fifteen minutes a day to undergo a 'journey' through meditation will help to redress the balance in your mind, helping you to visualise more positively throughout the day. As your day to day life is often reflective of your mental projections, visualising positively about the kind of place you would like to spend time in will also increase the amount of time you really spend in positive environments.
Taking a Journey
Either seated with your weight balanced, or laying with your arms loosely at your sides, clear your head of all intrusive thoughts before beginning to visualise a pre-chosen environment. It is best not to focus on an environment that has strong associations with your past, as this will not be conducive to fully relaxing. Rather, choose an ideal place that you would like to be presently. A peaceful beach is an ideal place to start, although a serene field or calm forest may be equally positive as an image. As you begin to see your ideal image develop, consider the following factors.
Let's consider a beach as an example:
Note the sensations that are available to the touch including the warm temperature, a gentle breeze and the water lapping at your feet. Feel the sand against your skin as if you were really in your chosen beach environment, and so on.
Listen to the rhythmic movement of the sea and the faraway sound of birds that live off the seaside environment.
Let the smell of the clear sea air rise and fall with your steady breath.
Note the visual impressions as they affect you and bring you to an awareness of your place within this vast and calm environment: the sun reflecting off the sea; the sea taking on the colour of the sky; the sand and the stones that will one day become sand.
Bring all of these elements together and visualise yourself outwardly, looking healthy relaxed and invigorated, watching yourself as you calmly interact with your environment.
Finally, feel the way that you would feel in this environment, happy in the knowledge that you have earned this well period of relaxation.
Meditating in this way is a powerful way of experiencing the positive effects of visualisation upon your subconscious mind. You will soon see the way in which this form of meditation leads to an enhancement of your lifestyle, especially if you practice it regularly.
You might also like...