Mindfulness (Vipassana)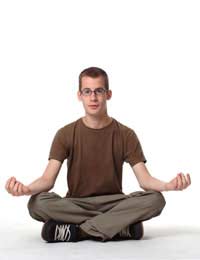 'Vipassana' is often translated as 'mindfulness' or 'insight' and is a form of Buddhist meditation that aims to foster a permanent awareness of the true nature of the Universe and one's place within it. Vispassana does not require any strict adherence to religion and is referred to across many spiritual and relaxation practices. It is believed to have been first taught by the Buddha 'Siddhartha Gautama' after his initial 'Enlightenment' as a means of directly addressing the source of human suffering.
Vipassana first requires that the practitioner refrain from killing stealing, telling lies, sexual practices and the consumption of drugs and alcohol in line with the ethical code of conduct that the Buddha recommended. Following this, the mind must be cleared through the practice of breathing meditation or mantra meditation. The final stage of Vipassana is then a reflection upon discoveries during the first two stages and a final overall awareness of the true condition of being.
Learning Vipassana
Since the Buddha devised Vipassana there have been many teachers of this form of meditation and it is possible to learn Vipassana from an experienced practitioner, who will often teach for free, the cost of the courses being met by previous students of Vipassana grateful for their own development.
The actual practice of Vipassana and eventual learning of 'mindfulness' is often taught over a period of just ten days, although an individual's development of a full awareness or 'insight' will usually require intense focus and introspection over a long period of time.
The meditation techniques finally employed to develop lasting mindfulness are not dissimilar from those discussed elsewhere on this website as Vipassana refers simply to the final stages of realisation – principally the acceptance of one's transience and connectedness to the wider Universe. The carrying of this mentality into the everyday is thought to be able to enhance one's performance in all areas of life, whilst contributing to a better understanding of the 'big' questions relating to life, death, loss, success and failure.
Interestingly, Vipassana, in its three stages is not so different from Modern practices which aim at fostering a healthier frame of mind, such as Psychoanalysis. The initial practice of clearing one's mind (Samadhi) from attachment to harmful thoughts and dependence on substances, untruths and other people is similar to the fundamental analytical principle that one needs to rid themselves of all attachments before becoming complete in themselves. In both cases it is seen as not enough to be able to reach a comfortable state. Real change can only come after a consideration of the factors that lead to discomfort in the first place.
In contemporary Western society the practice of Vipassana as part of a long running consideration of one's place in society and the Universe can no doubt be useful and needn't accord with an adherence to Eastern mystical forms. Possibly the main thing that can be gained from a study of Vipassana is a resolve to following a reworking of one's thought processes through to a genuine breakthrough point – something uncommon in an age of instant remedies and overnight self-help cures.
You might also like...