Walking Meditation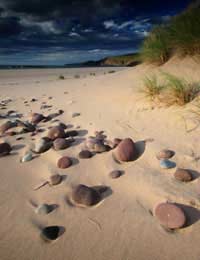 Walking meditation aims at mindfulness in just the same way that seated meditation does but uses as its focus the act of walking, rather than a counting of breaths or a repetition of a word or phrase. This in itself changes the central focus of meditation from something that can be perceived as intensely insular to something that involves a physical and sensory interaction with the world. This perhaps gives the lie to our perceptions of meditation in general, for it is not the purpose of meditation to have one draw themselves away from the outside world, but rather to foster an awareness of our oneness with that world. Walking meditation can help us to do this as we directly experience the sensation of mindfully interacting with the world around us.
The Walking Method
Although the teaching of walking meditation is originally attributed to the Buddha himself, it is very well suited to modern spiritual practice, our lives spent, as they are, often on the move. There are many forms of walking meditation, some of which involve pacing up and down a 20 to 30metre stretch of path and others which are far less formal. Those that involve walking repeatedly up and down a path resemble breathing meditation, with either end of the path being akin to a 'breath'. Curiously this transferral of the inner counting of the breath to an outside tangibly felt experience goes to highlight our connectedness with the wider world: The 'in' and 'out' breaths, and the two ends of the path are representative of the same thing - a simple demarcation of time and space in order to better aid one's concentration.
For the moment it should suffice to focus on the less formal methods, as they are most suited to our existing mind frame, whilst still holding in mind the fundamental similarity between seated and walking meditation - the central focus being to clear the mind and concentrate on the moment.
Walking meditation involves simply being aware that you are walking. That is it.
By practicing a simple appreciation of the sensations present when you are walking you are becoming aware of both yourself and your relation to things around you: the ground you tread upon, the air and wind, and so on. If, for any reason you stop just walking, continue to be aware of whatever you are doing, thus taking the experience gained during meditation with you into the other elements of your life.
Walking meditation can be practiced whenever you need to walk, or can be practiced deliberately and purely for its own sake. In either case it is a simple and valuable way of learning the essence and spirit of meditation and will have a positive impact both on other meditation practice and on everyday life.
Walking meditation can be undertaken in conjunction with breathing techniques or mantra's. It is possible to count one breath or recite one line of a mantra or one word every two to three steps. This is a great way of clearing one's mind before focusing purely on your walk, although it can be carried on as long as you wish and also points to the parallels between walking and seated meditation, making it possible to treat seated meditation much as walking meditation, only in a seated position - focusing on the sensation of sitting in order to reach an appreciation of the moment!
You might also like...