Meditation and Creative Visualisation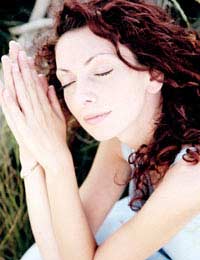 Creative visualization is a powerful tool for improving your confidence and bringing things towards you. It is very simple process and works on a very uncomplicated premise. Unfortunately the 'secrets' of creative visualization are often sold for unreasonable amounts of money, despite the actual process being within anyone's grasp! It is possible to undertake creative visualization without any props or expensive tuition books, lessons or C.D.'s once you have understood the basic principles.
How Creative Visualization Works
Creative visualization works on a similar premise that meditation works. As one meditates the mind becomes used to relaxing and observing the moment in such a way that this attitude becomes permanently ingrained in the individual over time. In the same way it is possible to permanently affect the course of your thinking, and therefore of your life, through the positive creative visualization of the things that you wish for.
The mind works on the basis that all impressions and thoughts on a conscious level are stored on an unconscious level. Therefore, if you express negative thoughts regularly, you are merely going to reinforce these feelings and values and make them grow stronger. This can be counteracted by envisioning positive scenarios and thinking and saying positive things. Remember, you are essentially the sum of everything you believe yourself to be!
Positive Affirmations
The way you think about things linguistically has a huge effect on your everyday experience of life. For example, you may have a career ambition and keep telling yourself that:
'I'd love to be a 'Your Chosen Career', but I bet I'll never make it'
'I want to be a 'Your Chosen Career' but it's going to be difficult for me to achieve that',
These negative thoughts will impede your progress in the sense that they talk about unobtainable or faraway future goals. Thinking like this will constantly defer your success as you will reinforce the difficulty of achieving what you want. You are likely to gain much more by believing yourself to already be on the path to your goals and reflecting this in the way you talk and think about yourself. By rewiring your inner dialogue in this way it is possible to start leading the life you want immediately. This can be easily achieved by reciting daily positive affirmations, much like mantra's. You can choose you own affirmation:
Here is one example:
'I am strong and loving and constantly manifest all of the things that I want around me.'
Note that the above affirmation is not over specific. You will gain little from merely reciting your desire to own a Ferrari! It is far better to merely assert your general feeling of wellbeing and your comfort ability with your surroundings.
Positive Creative Visualisation
It is also possible to improve your sense of wellbeing by visualising yourself performing well in everyday situations. Half close, or close fully your eyes much as if you are meditating and see yourself as you know you can look and feel at your best. Visualise an entire scenario whereby you are successful and happy right down to the physical sensations and noises around you. By doing this you are preparing your mind so that you may relax and experience situations confidently as they arise. Again, it is best not to be too demanding or over specific; life is full of variables and it is never good to expect things to go fully your way. Rather, envisage your self dealing comfortably with anything that does come your way!
You might also like...