Meditating to Improve Creativity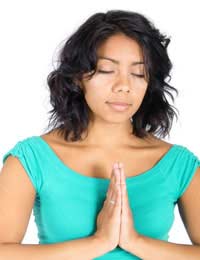 It is widely felt that meditation can be very useful in improving creativity with a great many artists' writers and musicians practicing meditation. The link between meditation and creativity works on a number levels. Firstly, meditation can open one up to sensations and visualisation, not dissimilar to a dreaming state that can throw up inspirations for the artist. Secondly, the process of meditation opens one up to living in the moment and endears one more to the possibilities presented by chance and randomness, factors that are central to the development of the creative work. Thirdly, the act of making art, in its widest sense, involves adopting a state of mind that is mindful and close to meditation. Philosopher Immanuel Kant argues that creative genius was the natural channelling of an ability which endowed the individual artist with the ability to make works as beautiful or sublime as nature itself. In this sense, Kant continued, it was precisely for its uselessness that art was beautiful. In the same way, through meditation, it is only without trying that we can see our true selves. Finally, many artworks are themselves inspired by spiritual endeavour. All legitimate creative output prior to the advent of the Renaissance was religiously inspired, whilst Modern Artists, though not bound by religious doctrine, are frequently motivated by a spiritual quest, from William Blake, to Delacroix, to Van Gogh, to Rothko, to name but a handful of examples.
Channelling Your Creativity
Creativity, much like the human breath is something intrinsic to us. Though it is felt that some great works of art are made under intense moments of stress, it is not necessary to reach those states in order to create at any level and for any purpose. The cliché of the creative person starving in a garret is long outdated. In fact, the mind itself would be incapable of producing under such intense pressure. The often portrayed isolation of the artist merely implies that art like meditation is best made with no distractions. In this way one is able to reach their natural creative potential and realise their connection to all objects and beings - or their oneness with the nature that they wish to emulate.
You can try enhancing your creativity through meditation by meditating and recording your experiences visually, by exposing your creative endeavour to chance, by becoming a channel for nature to express itself, and by expressing your spiritual quest through the artwork. All of these methods, in conjunction with regular meditation should teach you to approach the artwork in a way that is not over careful. The artwork, as a product of your ego self, should be let go of. It is only in this way that you may open yourself up to wider opportunity. It is common for artists to make only tentative steps, in the fear that they will ruin their artwork if they make any bold gestures. This really is akin to the mistake many people make during meditation in fearing letting themselves lose primary consciousness. Both art and meditation teach that there is something to gain in not seeking to gain after anything at all. In conjunction with creativity, whether it is for home decorative purposes or as a career endeavour, and meditation, whether secular or spiritual stands to feed off one another in a mutual relationship which itself points to the connectedness of all things. Art is after all the subjective manipulation of material objects and as such demonstrates the inter-dependence of our inner and outer realities.
You might also like...