Basic Breathing Meditation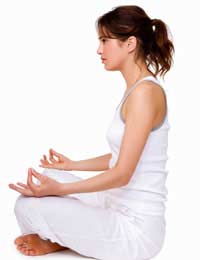 Breathing is central to meditation practice whether you have spiritual concerns or not. The breath is not monopolised by any one strain of thought and is experienced by each and every one of us as essential to our being. More than anything the breath is essential to life, and is the one thing that one is aware of when they have fully stilled their mind during meditation, whatever their outlook on life.
Although the breath needn't be the central focus of meditation, it is often seen as beneficial to count the breath for the sake of clearing the mind, and because developing good breathing practice will undoubtedly invigorate your cardio-vascular system, leading to increased physical health and mental acuity.
As discussed throughout this site, meditation really should not be a difficult process, but is rather the calming of one's body and mind so as to restore it to its natural state. If you are new to meditation and want to start off simply and without embarking upon a spiritual quest, simply follow the next steps, and repeat regularly, noting the benefits as time goes on:
Choose a time and find a quiet place where you can return to between 3 and 7 times a week.
Consider your reasons for starting meditation, keeping them down to earth, and resolve to stick to your practice whilst observing the positive benefits coming into play.
Sit straight backed on a cushion or solid chair. Don't strain to hold a position, but simply sit upright so as to give your lungs and other organs 'breathing space'.
Setting yourself 5 to 10 minutes initially, rising to 10 to 15 minutes after a few sessions, simply count your breaths with one entire inhalation and exhalation constituting one breath. Count in series' of 4-10 repeated for the duration of your meditation session. Alternatively, choose a simple mantra (see related article: Meditation and Mantras) and repeat it over and over, saying your mantra once for each full cycle of your breath.
If you find that your mind wanders, simply note this distraction as a passing intrusion and carry on with your counting sequence or mantra.
Keep to the time that you have set yourself before you started your meditation, even if your meditation is going particularly well.
After your meditation take a couple of minutes simply sitting down in in order to adjust. Following this, take the occasional moment to appreciate the effect that the regular practice of meditation has had on you.
Such a simple meditation practice has benefits for those not wishing to embark on a course of meditation as a revelatory or mind blowing experience. For this reason it does, in fact evoke the kind of experience that even spiritual practitioners aim toward when meditating well. This is because the process of meditation is often taken to be something mystical of fantastic, when it actually only aims to make one aware of truth and normalcy. Starting the process of meditating with a very basic breathing exercise, and maintaining it in its simplicity is very good practice whatever your reasons for meditating.
You might also like...
I have been meditating for nearly 6 months, most days, 20 minutes each session. I always concentrate on my breathing, sometimes I use mantras but more often prefer to find a state of silence at least between thoughts that come and go. I meditate to releive stress, to find an inner peace behind the thoughts that are sometimes like an endless chatter or a passing cloud across a blue sky of silence.I would be gratefull of any advice that will further my meditation
dormouse
- 24-Apr-13 @ 9:51 PM