Taoist Meditation Methods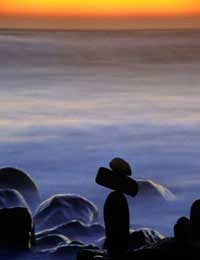 Taoist meditation is not unlike Buddhist and Hindu meditation yet puts more emphasis on our union with nature and its central life force 'Chi', which can be translated as 'energy', but also as 'breath'. This simultaneous translation is key to understanding Taoist meditation methods, which focus on channelling the natural breath as the Earth's and Universe's energy, whilst uniting the opposing yet intertwined forces of Ying and Yang.
Ying and Yang
Like Buddhists and Hindus, Taoists identify a difficulty in the early stages of meditation as the 'ego-mind' struggles to fight against the notion of its connectedness with the source of all things. Taoists aim to calm the turbulence of the mind by uniting the active and passive elements of 'Ying' and 'Yang' in stages:
Firstly, simply observe the business of the mind, and by observing its movements learn to calm it.
Once you have understood your mind, focus your attentions on a symbol of sacred value such as the image of Christ or the Ying-Yang symbol.

Finally, once your energy is focused, guide it around your body through specific energy channels.
The channelling of energy, which constitutes the final stage of Taoist meditation has close parallels with the channelling of energy through the Chakra systems identified in Yogic tradition.
Taoist Breathing Meditation
A form of 'Breath and Navel' meditation is central to Taoist meditation and is used to calm the mind. It also has parallels with Buddhist and Hindu practice. This exercise involves simply sitting cross-legged on the floor well balanced and closing your mouth with your tongue rested gently on its roof.
Following this, breathe naturally feeling the breath enter your nostrils and exit your mouth, whilst also registering the rising and falling of your navel. In this way it is possible to see your connection to the Universal energy as you feel it enter, exit and move your body. This meditation can be performed for up to 30 minutes a day as regularly as possible.
It is worth considering when partaking in any Taoist meditation the specific emphasis that Taoism places on our connectedness of nature. A simple contemplation of this fact can in itself be a valuable meditation technique and one which requires no specific spiritual belief.
Taoist Meditation and Philosophy
Other Taoist meditation methods include 'Microcosmic Orbit Meditation' and 'Master Han's Central Channel Meditation'. Often these meditations can seem esoteric to the Western practitioner. It is true that much of the 'Science' is hard to get one's head around. A Taoist would often argue, however, that these methods are tried and tested over millennia and that many of the energy points that they aim to revitalise have parallels in the discoveries made by Western medicine.
In any case, the results are said to speak for themselves and many Taoist meditation exercises can be of use in contemporary Western society for both their physical and mental relaxation benefits.
You might also like...