Can I Go Back to Sleep After Morning Meditation?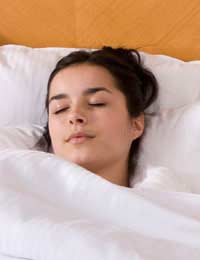 Q.
I know a few people who say they experience bad dreams if they go back to sleep after early morning meditation. What is the cause? Sometime ago I read somewhere that one should not go back to sleep after meditation but the reason was not mentioned.
(S.S, 5 May 2009)

A.
It is very unlikely that meditation is the cause of disturbed sleep – in fact, meditation is often the prescription for people with sleep disorders. It is well-documented that during meditation, your pulse rate slows, your blood pressure drops, the levels of stress hormones decrease and your brain waves change to resemble those found in the early stages of sleep – therefore, meditation is often used to induce a state of relaxation in preparation for sleep. It is perfectly naturally, therefore, to fall asleep after meditation and you should experience increased quality of rest, not less.
Having said that, for many novice practitioners, meditation can "open the gates of the mind" and release many of the stresses and worries that they have unconsciously been holding there. We have a great capacity for suppressing fears and emotions in order to function on a daily level but meditation may cause you to reach deeper into your subconscious and unlock things that you may be keeping in there. This may bring problems to the surface which may then disturb your sleep in the form of bad dreams and nightmares – or even possibly make you too tense to sleep well. It is not unheard of for beginners at meditation to find themselves more tense after meditating than before, in the first couple of sessions! However, this is simply a period of readjustment and learning - with practice, you will be able to use meditation to "let go" of the stresses and thus promote a greater state of relaxation.
Don't forget also that there may be other contributing factors to poor sleep that you may not be aware of – for example, alcohol is notorious for causing drowsiness but its stimulant properties mean that any sleep achieved is poor quality and disturbed, meaning that you often feel more tired when you wake up. Other contributing factors to poor sleep include caffeine, indigestion or heavy digestion, certain protein-based foods which stimulate brain activity, nicotine, exercise at inappropriate times or lack of sufficient exercise or even just a simple change in routine.
Ultimately, sleeping after meditation should be fine and you should not experience problems doing so – but if problems persist, then it may be worth paying a visit to your GP to check for other causes.
You might also like...
Can I sleep after meditation in the brahm muhurat. Is it OK to sleep or should I keep awake.
Ravi
- 22-Jun-21 @ 3:18 AM
After 30 minutes meditation I obviously getting sleepy. How to avoid please suggest.
Swakwu
- 17-Sep-20 @ 3:21 AM
Is it advisable if individual is going for sleep after morning meditation.Self is trying to avoid sleeping in the morning meditation but could not permit my health.Always getting sleepy after 30 minutes meditation. Kindly advise
Swakwu
- 17-Sep-20 @ 3:18 AM