After Meditating Why Don't I Sleep Well?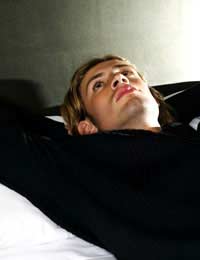 Q.
I started meditating two weeks ago, every since I have been having really light sleeps at night and am not getting the same rest I used to get.
Why is this?
(Mr craig , 3 December 2008)

A.
It would be impossible to say why you're now experiencing light sleeps since you've taken up meditation. However, it's unlikely that meditation is the reason for this. In fact, meditation has helped thousands of people who have suffered from sleep disorders improve their sleep quality.
There are countless reasons why people find it difficult to sleep. Worry and anxiety over problems are common factors and things such as eating too close to bedtime and alcohol, nicotine and caffeine intake can also be to blame.
Simply changing a well established routine can also interrupt the body's natural rhythm as it gets accustomed to change. Therefore, as you've only recently taken up meditation, this change in your usual routine may be just a temporary interruption to your usual sleeping pattern.
If you've just begun meditating close to bedtime, perhaps this might have subconsciously made you think about any problems which you ordinarily would have thought about at another time of day. Perhaps, a point of focus such as a lit candle or some other artefact would help to increase your concentration as you meditate or try meditating at another time of day.
Maybe you're simply not exercising enough. For example, you don't state that you're having difficulty getting off to sleep, just that you're experiencing 'light sleeps' so maybe light sleeps are all your body requires in terms of the amount of energy it has expended that day.
To give you the best possible opportunity of enjoying a good night's sleep involves a bit of preparation. Key things to remember are:
Avoid alcohol, caffeine and nicotine in the run up to bedtime
Create a good sleeping 'environment' – quiet bedroom, not too hot or too cold, make sure your bed is the right size and that it's comfortable
Keep bedtimes regular as much as possible even at weekends and be careful of taking 'catnaps' during the day. Whilst they can be useful, they can affect sleep at night
Try not to eat too close to bedtime but if you're used to an evening snack, avoid protein based foods that stimulate brain activity – a banana, yoghurt, whole grain low sugar cereal or warm glass of milk is preferable.
Finally, if you do feel that it's the meditation that's somehow responsible, then simply revert back to your previous routines. It's far more important to get a proper night's sleep than to practise meditation if it's going to have a detrimental effect. Otherwise, speak to your GP who might be able to get to the root cause.
You might also like...