Keeping a Meditation Journal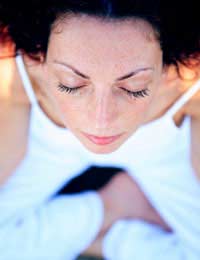 Keeping a meditation journal or 'diary' is often felt to be a useful way of progressing one's meditation technique. By keeping a journal it is possible to document sensations, impressions and experiences as they arise during meditation and thereby 'improve' upon the experience of meditation.
The experience of meditation, being novel and unusual to the beginner, is often thwarted by interruptions and wrong approaches. By noting down sensations and thoughts that appear to be uncomfortable during meditation, it becomes easier to accept them and become 'mindful' of them, accepting them as part of the meditative process, rather than condemning them as aberrations - something that will undoubtedly block the path to relaxation.
Starting a Journal
All that is needed to start a journal is a notebook and pencil. From here it is possible to note down experiences that occur during routine meditation, in order to help one better guide themselves along the spiritual (or purely calming) path. As everybody is different, so too is their experience of meditation, so everybody's diary will be unique. However, considering the purpose of the diary, it is possible to recommend certain factors that should be focused upon.
Your meditation journal is your own way of staking out and identifying the road to relaxation and enlightenment as it occurs. In order to do this an orderly and stable system is required: noting down the date, time and location of your meditation can make identifying patterns and important experiences a whole lot easier than if you find yourself massed with a jumble of notes.
From here things that you may come across, and that are worth noting are:
Physical Pains
Physical pain can often be a hindrance to meditation and a diary can help to identify recurring pains. From here you can choose to either: observe these pains as they occur and let them pass, or to adjust your meditation position.
Uncomfortable Thoughts and Interruptions
You are likely to have unusual or uncomfortable thoughts interrupting your attempt to attain a calm state as you begin to meditate. This is entirely natural: Curiously, when you try to stop 'thinking' the brain will throw up nearly anything it can to make this difficult! It is important to be open about the thoughts that occur, as a means of better understanding yourself. A diary will help you to better accept these interruptions.
Unidentifiable Sensations
Meditation can open up realms of the imagination previously unexplored by the practitioner. It is useful to note these as they often represent something important in your own life. It is also vital to come to terms with them in a down to earth manner. Though spiritual emancipation can meet with unusual psychic activity, this is not the goal of meditation itself, and can often be a harmful distraction.
Outside Interruptions
You may find yourself interrupted by noises and physical sensations caused by your environment. Noting these will enable you to find a suitable area for your routine meditation.
Duration
It is also worth noting the duration of your meditation practice. If you have found the latter part of your meditation uneasy, it may be worth shortening your practice until you feel ready to lengthen it again. Quality is more important than duration or quantity.
Having made a note of the sensations experienced through meditation, it is then possible after a period of days and weeks to identify your particular strengths and weaknesses and to alone, with a teacher, or with a group, tailor your practice to realise optimum results.
You might also like...
@Skiprat. Take a look around this site to discover the various forms of meditation.
MeditationExpert
- 27-Feb-15 @ 12:15 PM
I'm taking part in meditation 'classes' from the Brahma Koumaris network of teachers & I'm unsure whether its the best way to learn about meditation. Possibly because I struggle with the use of the word God. Any suggestions?
Skiprat
- 24-Feb-15 @ 10:58 PM