Master Han's Central Channel Meditation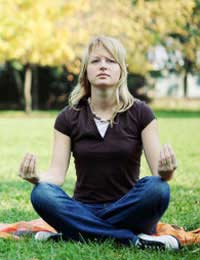 Master Han's Central Channel Meditation is a simple method designed for contemporary practitioners in order to enable them to experience the flow of energy through points that Taoists believe to exist within the body. It is based upon an ancient method and aims to bring Taoist philosophy to people who may otherwise be discouraged with a philosophy that is alien to Western science.
The effects of this method are sometimes physically discernible as shudders and motions in the body. However this is something that is often met with scepticism and wariness, with the U.S. authorities actually having a specific term in their mental health categorisation system to account for psychosis related to the practice of Chi Kung – a practice related to Taoist meditation. This is something that forms part of a wider debate (discussed throughout this website) and it is unclear whether the blame for instances of psychosis can really be put on to specific meditation techniques. Perhaps, rather, the opening up of certain channels through meditation leads to states of awareness merely at odds with the prevailing form of consciousness in the West. In either case, one needs to be aware before they choose to embark on any for of meditation and choose carefully before they stake out a spiritual path.
Central Channel Technique
The central channel technique aims to open up a channel via which a natural energy flows throughout the body. The technique itself is a mere variation of simple breath and navel meditation exercises. The belief system underlying it is a little more complex and requires faith ultimately in the results as they are experienced. The experience of Taoist meditation is not something to be questioned, but rather to be experienced: Simply let your body tell you what it feels.
The Three Broad Stages of Central Channel Meditation
Sit comfortably and take a long breath, whilst leaning forward slightly, exhaling loudly in order to rid your body of 'stale' breath and poor energy.
Next sit calmly and breath naturally letting the air flow from your navel to a point about 3-4 fingers width above your crown, feeling the breath enter and exit through this point, rather than through your nostrils. You may at this point experience a warm sensation at your scalp, or even a tingling or prickling – something associated with spiritual awareness across many different disciplines and at different points in the body depending upon the exercise.
After performing this exercise for a while, or a few times over a period of days, you may experience trembling in your body (during the exercise) which is a sign of your energy channels opening up. This is also something common to other spiritual methods – particularly intense Yogic practices, many of which focus their attention on the 'Crown' chakra.
After you have become comfortable with this exercise, and if you are ready to move on, you can try focusing on energy as it leaves other points of your body. One example is the palms of your hands, another is the perineum – located just behind the genital area. Focusing on different points through which your breath can pass will rejuvenate your body in different ways.
This exercise can prove invaluable in channelling energy and focusing ones mind, and also can provide tangible evidence, for those who are not sceptical of spiritual inquiry, of the link between the body and spirit and the individual and universal 'Chi' – or 'energy'.
You might also like...