Gnostic Meditation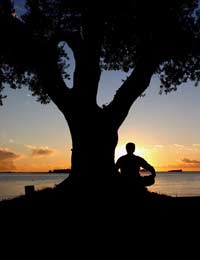 The term 'Gnostic' is derived from the Greek 'gnosis', meaning knowledge and is widely applied to various groups that either follow a doctrine similar to Christianity, in their belief in one Supreme God, a battle between good and evil, and a final salvation, or are openly Christian, although without the consent of established Christian elders.
Gnosticism
Gnostics believe that all existence 'emanates' from one God, who originally split into two being, the second of which contained two opposing beings within it, from here further emanations occurred, each resulting in a splitting of one being into its two component parts, finally according with the creation of 'Jesus' and 'Sophia'. From here Sophia, in a desire to create something that was not in thrall to God, emanated and created the 'Demiurge', a figure that did not possess two component parts and was therefore lacking.
The Demiurge (sometimes comparable to Satan) went on to create the material world, which is imperfect. Despite the origins of the Earth, the Gnostics believe that each human has an element of the divine being within them, and that it is a central aim to tap into the knowledge of truth bestowed by that divine being. It is believed that eventually a saviour will unite humans with God and it is this that brings Gnosticism to parallel Christianity so closely, even when (as is often the case) Gnosticism is at pains to distinguish itself from Christianity.
Modern Gnosticism is sometimes openly Christian in its form, conducting ceremonies in churches and reciting prayers not unlike Christian prayers. However as Gnostics aim primarily towards 'knowledge', they are not generally prescriptive about how worship is undertaken and practices from across the world religions can be performed in the quest for spiritual realisation.
As the term Gnosticism is applied to many varied practicing groups, it is difficult to outline a precise course for meditation. However, as the central aim of Gnosticism is to gain 'Divine Gnosis', any practice of meditation that leads towards this is of use to the Gnostic.
Another form of Gnosis combines elements of Thelemic thought; a system popularised by Aleister Crowley, preaching one's own personal understanding of their own will as a means to better understanding the divine.
Human Gnosis and Divine Gnosis
Reflection on the nature of God and the Demiurge as well as upon spiritual scriptures enables individuals to reach a higher understanding of God. This is termed 'Human Gnosis' and is often then followed by a direct experiential awareness of divine truth called 'Divine Gnosis'. Divine Gnosis is imparted gradually through individual manifestations until full Gnosis, or a direct experience of God is reached. In this sense Gnosis is very similar - or perhaps the same as - Buddhist enlightenment.
It is advised that Divine Gnosis be treated respectfully by focusing either on a text, a mantra, one's breath in order to relax and become open to Divine impressions. As these impressions occur, often in the form of images or sounds, it is important to not become over involved in the impressions themselves; they are not a Gnosis of the Divine but revelations that lead one on the way to Divine Gnosis.
Because Gnosticism is a vague category and comprises many different groups that have developed over time separately it is not easy to define a meditation practice other than one that is similar in form to Buddhist and Eastern Orthodox meditation, whilst being directly related to a desire to escape the confines of the body enforced upon us by the will of the Demiurge.
The precise nature of Gnostic scripture is unclear and one major schism between Gnosticism and the Christian Church arises out of Gnosticisms belief in the Adam and Eve story being mere metaphor for the two conflicting elements of the human individual. Taken in this light, it is easy to see how Modern Gnostics incorporate the practice of many different religions into their belief system. For this reason a Gnostic meditation on the true nature of God is a good way to encounter spirituality if you're not convinced by partisan religious claims to truth or authority and would like to explore spirituality on a more personal level.
You might also like...