Space Clearing Meditation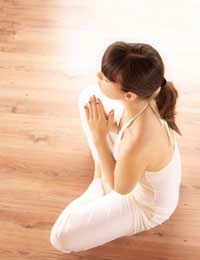 Space clearing meditation is an exercise used to improve our environment and our perception of our environment. There are many forms of space clearing meditation (SCM), that involve imagining occult symbols and saying affirmations that may seem unfamiliar to you. However, the best forms of meditation are those that you feel most comfortable with so we are going to develop one that best suits you.
The Purpose of Space Clearing Meditation
SCM addresses the fact that sometimes spaces can appear or feel to have a bad energy within them. Thought this may sound a bit 'New Age', the fact is that many people get a feeling of negativity when entering certain rooms. We could argue that whether or not you believe in spiritual energy this phenomenon indicates that the relationship between the person experiencing the negative energy and the environment that they are experiencing it in is not a good one. For this reason the bad vibes need clearing, just as they need clearing between friends through conversation after there is a falling out.
SCM Exercise
SCM can be conducted using a mixture of breathing, positive visualisation exercises and positive affirmations.
Firstly, place yourself in the room you that wish to clear of 'negative energy' in a comfortable familiar bodily position for meditation, facing one wall. From here close you eyes and focus on a positive image that you have mentally projected on to the centre of that wall. It could be the image of the 'Om' symbol, the Sacred Heart, the Christ Figure, Mary, a glowing white light, a flower or anything that you feel comfortable with. Visualize this symbol glowing with white light for several minutes, before repeating a positive affirmation such as: 'Let the energy be positive in this space. In this space I feel strength, confidence and beauty, which I emanate to all of those around me.' You can tailor the affirmation to suit your self if you wish. Repeat this exercise facing all of the walls in the room.
Many people like to precede the space clearing exercise by cleaning and tidying their space, and this does make sense, as spiritual, emotional and physical energies are inextricable linked. Lighting candles and burning incense sticks may also help contribute to a feeling of positivity. You may also wish to incorporate a smudging ritual into your SCM (see related article on 'Smudging').
SCM essentially aims to address the fact that perception is everything when it comes to environment. Change your perception and you can change the way that environment feels. Remember, however, that over time bad feelings about a space can build up again due to the things that happen there and the emotions that are felt there. Be sure to practice SCM again if you feel it necessary.
SCM techniques can be used in full or in part in any space, and may be ideal prior to a stressful time at work or college – such as giving a presentation, or simply if you feel at odds with your work space. The positive affirmation and visualisation elements of SCM are particularly useful here as they can be conducted without sitting in a particular position and without specialist equipment
You might also like...