All About Taoism and Taoist Meditation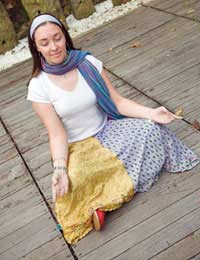 Taoism translates simply from its root 'Tao' meaning 'the way' as 'the way of the way' in as much as Christianity is the 'way of Christ' and Buddhism is the 'way of the Buddha'. Following 'the way' simply and intuitively is very much central to Taoist thought and practice. However, understanding Taoism is made slightly more complicated than it might be as a result of the difficulty in translating ancient Taoist texts, together with confusion over the exact provenance of the Taoist school of thought itself.
What is Tao?
Principally, Tao in the West is seen to derive from the teachings attributed to 'Laozi' and written around 600 years B.C. in China, although a more organised form of religious Taoism was initiated by 'Zhang Daoling' of the Han Dynasty in the 2nd Century A.D. Taoism was later sanctioned as a state religion with Laozi being venerated as a deity. Throughout history Taoism has morphed into many differing forms reflective of the diversity of Chinese culture. Many of these forms are arguably at odds with the original teachings of Laozi, being blended with alchemy and the desire for increased longevity and wealth, practices arguably at odds with the notion of simply following a natural path.
To further confuse matters, the term Taoism is often confused with Zen Buddhism, other non-Chinese spiritual practices and a host of Chinese folk practices that have little in common with Taoism. However, the principle teachings of Tao – that one must flow with life's natural energies and that there is no substitute for direct experience of these energies remains central to a revived understanding of the teachings originally laid down in Laozi's 'Tao Te Ching'.
Tao can principally be described as the essence of all things and an adherence to Taoism can be seen as a natural submission to nature and a blending with the unity of all things. As such, Tao is an appropriation of pre-Taoist forms of nature worship that teaches oneness with nature rather than promoting the control of nature through the ritual practice of magic. The literal worship of nature was in this sense eradicated by followers of 'the way', who prefer to harmonise with natural phenomena.
As well as distinguishing itself from ritual nature worship, Tao posited itself as different from the principle teachings of 'Confucius', a prominent Chinese thinker active in the 5th Century B.C. who emphasised the importance of morality and justice. For a Taoist, the natural order of things accounts for the existence of opposing forces as inextricably interlinked. This is something visually summed up by the image of 'Ying and Yang', a circle divided equally between black and white, light and dark, male and female, right and wrong and so on, with each opposing force represented as a negative of the other. This symbol has become popular in the West where it is often worn as jewellery or used a symbol upon which to focus during meditation.
Though Taoism clearly does not differ greatly from Zen Buddhism, with Tao teaching the importance of 'wuwei', or 'no action' just as Zen teaches the principle of 'just sitting', Tao is characterised by a love of nature in a way that may appeal to those in the West who often feel separated from nature and their oneness with it.
Taoist Meditation
Taoist meditation takes a number of forms and if one wishes to follow a Taoist path, there is really little that need differ from any other basic meditation practice. A reflection upon Laozi's 'Tao Te Ching' may be useful in helping to adopt a Taoist mind frame, though in a Western society Taoism may best be approached as one amongst many other spiritual forms which can be useful in fostering a greater self awareness and sense of one's place within the wider world. With this in mind, both Tai Chi and Chi Kung (see related article), which are influenced by Taoism, are excellent ways of enhancing one's spiritual awareness along with other practices.
You might also like...