Meditation to Improve Memory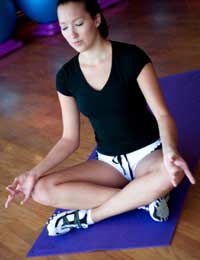 Meditation has been to shown to improve memory as a means of improving concentration and discipline in general. It has been demonstrated in scientific study that meditation noticeably strengthens the cerebal cortex – the part of the brain that controls logical thought and memory recall.
The focus upon a simple mantra, phrase, or upon one's breathing helps to improve mental focus in general, whilst the positive attitude fostered through meditation leads to a generally improved mental focus. It has even been suggested that the daily practice of yoga can prevent natural brain deterioration and may even help to combat diseases such as Alzheimer's. In one U.S. study a specific Kirtain Kriya meditation practice was used for just twelve minutes a day.
Kirtain Kriya
Kirtain Kriya is a practice specifically related to Kundalini Yoga, which involves chanting and employing varied hand gestures (or 'mudra's', see related article). The practice is said to increase energy and improve creativity.
Sitting with a straight spine in a comfortable balanced position the individual chants: Saa, Taa, Naa, Maa over and over. This chant means 'Birth Life, Death, Rebirth. Whilst chanting touch together your thumb and forefinger (1), middle finger (2), ring finger (3) and little finger (4), respectively in relation to each of the four sounds as they are made in order: Saa(1),Taa(2),Naa(3), Maa(4). Chant in a ormal speaking voice for two minutes, a whisper for two minutes and silently for four minutes. Then chant for tweo minutes in a whisper and two in a normal voice.
Finally, with each syllable chanted, envision a line descending from above your crown to your crown, and then channelling out in a straight line from your third eye to (an inch or so above the space between your eyes) to a few inches directly in front of your third eye.
It must be stated that any form of meditation may well be good for brain exercise and memory improvement: it is best to practice whatever form you feel most comfortable with. The benefit perhaps of the Kirtain Kriya meditation is that it exercises several different functions at once: visualisation, spoken chanting, silent chanting and the movement of hands, so may be particularly good as a concentration exercise that may help to improve memory. It is also fairly complex in structure necessitating good memory to follow the whole exercise through once without needing recourse to a set of instructions. Naturally then it will help to foster good memory.
It may well be noted that memory itself is said to be of little use to meditation, as the object is partly to clear one's mind of past thoughts (as well as worries about the future). This is true, yet memory is essential to everyday life, even if it is clearly best not to dwell on things. Instantaneous memory recall and acting upon it is essential to a healthy existence and is thought to be the root of both intuition and intelligence. The key is to channel memory useful and not to become embroiled in memory. Good meditation practice will in any case help to foster the conditions for this to be the case.
You might also like...
This is very dangerous, telling people to randomly start meditation without any guidance, especially a meditation like this. It's like giving a healthy person a bottle of medicine to take. It's also misleading. Using vague words to suggest meditation can improve memory (with nothing to back it up), with a title that says it DOES improve memory - whereas studies have shown that meditation (especially this type) can harm memory.
Normal
- 28-Apr-11 @ 8:27 AM