Can Meditating be Fun?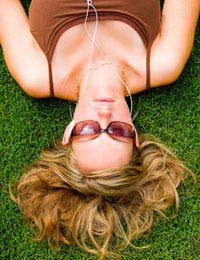 Meditation is often something clearly dissociated from 'fun'. We picture an air of solemnity in the meditation hall, whilst those who find themselves in fits of giggles during meditation might expect to receive darting and agitated stairs from their meditation master, and from the other practitioners.
This aspect puts many people off meditation and, in fact, is precisely the reason cited by some people for preferring to unwind with a beer or three than sitting for what can seem like hours counting breaths and chanting!
However, meditation exists precisely to relieve stress and modern medicine provides us with information to suggest that those who meditate regularly will experience a happier and longer life, essentially meaning that they will have more fun, more often, than if they were to avoid meditating.
Meditating for Fun
Meditation, as can be seen on any of the more 'method' related articles on this site, does not necessarily need to be conducted in a rigid and formulaic manner, and can in fact consist merely of being attentive and mindful to your daily activities. In that case it is possible to simultaneously meditate and have fun by being blissfully attentive whilst you play beach volleyball, have sex or laugh with your friends (to use three examples)! In fact, any activity when you are living precisely in the moment would be enough to satisfy some Zen Buddhists that you were having a fulfilling and worthy experience.
However, it is rare that one does not live in the moment when they are having a lot of fun, and what spiritual meditation aims to address is that moment when you are not having fun. Meditating aims to foster an acceptance of the fact that fun times will always pass, but also that bad times will pass too. In doing this it is easier to flow with life's ups and downs, rather than opposing them.
By living in the present, or by clearing the mind through any number of the activities detailed elsewhere on meditationexpert.co.uk it should be possible to feel oneself unconstrained by time and space and unconcerned by the future and the past. This not only makes it easier to see joy and misery as equal impostor's, just passing through your life, but also makes it easier to enjoy one's self when the fun times do come around.
Fun Meditation Exercises
As well as the wisdom that meditation imparts, it is possible to incorporate fun as part of a meditation exercise. You could repeat positive affirmations such as 'I am having fun,' or the 'The fun times are here,' in order to imbue your subconscious with a sense of pleasure. Alternatively, you could follow the examples of Osho, the late Indian teacher, who promoted laughter as a meditation exercise, as well as other forms of exercise including dance!
In any case, following popular wisdom, laughter is the best medicine in many cases, and a sound attitude to the passing of emotions will allow you to laugh more freely, whilst enabling you to see meditation and its effects realistically and not as an over serious and uptight preoccupation!
Sadness has its place in our lives too, and whilst laughter is the best meditation, the most well rounded new of meditation includes a focus on the nature of suffering. For many people suffering and misery is the flipside of happiness and fun and all must exist in a balanced life. It is only when only one element exists that reckless and unbalanced lives may be lived. Meditation can be fun and can help us to better appreciate good times, but fun is never the sole cause of meditation!
You might also like...