Meditating to Improve Social Awareness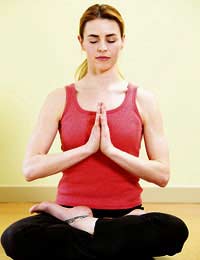 Meditation is something deeply personal that we go through alone. It is often practiced in solitude, and when it is practiced as a group, although experiences can be shared, ones experiences always remain something that cannot be truly felt by another. Meditation is often seen as a way of escaping or 'retreating' from society, with the image of the spiritual hermit or reclusive sage being one that springs to mind when spiritual meditation is discussed. However, meditation is often also considered as a means at fostering a good positive mental attitude towards other people and beings and of being more attuned with other individuals and groups.
A Sense of Community
Although meditation is deeply introspective it ultimately aims towards a letting go of ones 'self' – something that naturally entails a greater oneness with the source of all other things. However, to simply become at one with all other things would imply a loss of the self altogether and this is at odds with be socially aware – to lose the self altogether would make it impossible to interact comfortably with other people. A sense of your own personal self is intrinsic to feeling socially secure. What meditation aims to foster in this case is a dual appreciation of your individual self as a singular unit, and an appreciation of your self as constituted by the 'group'. It is easy to see in this way that we are all both individuals and part of a wider society that constitutes who we are.
Meditating, by eroding the boundaries that we normally erect between ourselves and the community allows us to be more at one with those around us, to the extent that we often feel a sense of greater compassion for others. It may then lead to a desire to help others on a societal level by influencing our political attitudes as well as out attitudes towards the notion of charity. Often , meditation will lead to the notion that to help others is also to help yourself. In fact, you may find that helping other has its own immediate reward
On another level you may find yourself more confident, to the extent that you lose your inhibitions as you find that there really is nothing to fear from those around you, who really are part of the same greater entity that you yourself partly comprise – that is, the Universe and everything in it (and possibly a few parallel dimensions besides!). After a while of meditating regularly, note, for example, the ease with which you communicate, as if there are no walls between you and whoever you are talking to, as you are talking 'with' them and not simply 'to' or 'at' them.
This may at first be a strange notion to grasp: Why would descending deep into your self make you more aware of others? To be sure, many people who meditate become withdrawn and not at all sociable. However this often accords with a poorly held conception of what meditation is and an egotistical approach to striving for some kind of spiritual 'greatness' or 'attainment'. As the actual focus of meditation is to clear the debris that forms your conscious ego however, the real 'aim' must be to leave behind the notion of striving after personal gain, and to forget for a moment your 'ego' self. When this is attained you will find your real self – one that is not 'closed' and defended against others, but is open to them. You will see that in finding your true self you also truly begin to understand those around you.
You might also like...