Introspection for Self Understanding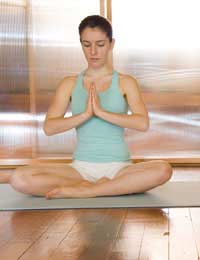 There are many ways in which meditation can contribute to a better self understanding though introspection. The process of clearing your mind often leads to suppressed thoughts arising, as well as leading to a better appreciation of how daily life and stress affects us.
Keeping a meditation diary (see related article), or at least keeping a running mental not of experiences during meditation is a good way of gauging your changing moods, thoughts and feelings. This will do two contrary but related things: firstly it will enable you to realise the continuities in your 'personality' (the person that you are), secondly it will enable you to realise that your personality is always changing. In taking these two points together you will be able to accept that the continuities in your behaviour that you treat as your personality 'self' are constantly changing and linked only by sequences of events, which themselves are products of constant change. In realising this by observing thoughts and sensations as they arise and abate during meditation you will be able to gain a more realistic idea of your position within the wider world.
In this sense self understanding involves as much a 'letting go' of your concept of who you are as an affirmation of it. How easily you understand or achieve this is a good way of coming to terms better with who you are. More relaxed people tend to go with the flow and be less adamant about their personality being separate and very different from people around them. Opinions, whist being strong are usually flexible. People who are less relaxed tend to fight more with their surroundings, in the constant attempt to assert who they are as opposed to who others are. This is really a defence mechanism and write bat odds with the attitude that meditation aims to foster.
Interpreting You Thoughts and Feelings
There are many thoughts that can arise during meditation. Some of these will relate to worries and fears about the past and future. In these cases you are having trouble letting go of your self. This teaches you that you lack faith and trust in people and in your surroundings. Once this is realized you can develop trust via meditation and positive affirmation (see related articles).
Some other thoughts may appear intrusive and perhaps have no reflection on your daily thoughts. These can be aggressive thoughts, 'immoral' thoughts and thoughts of a sexual nature. The tendency is to write these thoughts off as some unusual occurrence. Yet they came from your mind as much as any other thought. If you are uncomfortable with them simply ask yourself why this is.
By assessing your thoughts in this way it is possible to see yourself as an individual that interacts with your surroundings and experiences many things that influence your attitude over time. Once you have seen this you may see that some of your feelings are preventing you from relaxing fully, and yet others are hidden in your everyday life. You will be able to observe your personality as a complex blend of influences which must be allowed to flow. These influences can be best assessed when clear thinking, and it is for this reason that meditation can help us to be more self aware.
You might also like...