Where do You Meditate?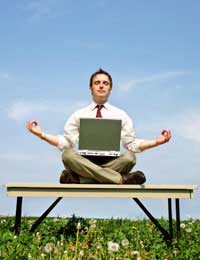 Choosing a place to meditate is really a matter of personal preference, and whilst some people may wish to meditate in a place that is spiritually equipped (such as a spiritual retreat), or that is especially tranquil (such as a mountainside), this is really not necessary. As the author of influential Buddhist text 'Zen and the art of Motorcycle Maintenance', Robert Pursig, argues, 'The only Zen you find on the tops of mountains is the Zen you bring up there.' Put simply, spiritual attainment, or simple relaxation can be found anywhere you are, so long as you have the right frame of mind. On the other hand, it is beyond doubt that certain environments are more conducive to meditating than others, especially if you are just starting out.
Finding the Right Environment
Always bearing in mind that a genuine relaxed state will require concerted effort from within yourself, it is possible to choose an environment to meditate in that will contribute to your success in meditating.
Some people like to attend a meditation group, of which there are many all over Britain. If you do this, the chances are that the environment has been specifically chosen by the group leader (if there is one) for the purpose of meditation. If you are in doubt it is worth trying a few different classes, taking into account that they will differ dramatically in practice between spiritually based groups, and secular groups.
If you choose to meditate at home or in your workplace, it is a good idea to consider the following factors:
Choose an area of your home or workplace that is not too noisy (this will involve thinking about when to meditate as well - see related article). It is possible to meditate to music so long as it is well chosen by you (see related article).
Make sure your area is well lit, but not too bright. Some people like to meditate to candlelight, sometimes focusing on the flickering of the flame - this is fine, but absolute darkness is best avoided as it can induce sleep.
Make your space comfortable, having a good chair/cushion to sit upon or bed/futon/mattress to lie upon.
Let others know what you are doing. This avoids uneasiness and embarrassment in the early stages when you are liable to be sensitive to interruption.
Try to meditate in a reasonably heated room - being too hot or cold will pose unnecessary problems.
Other than this there is little else to consider. Finding a good location where you can meditate regularly and comfortably will really depend upon your personality and situation. Props such as religious icons, incense and brightly coloured wall drapes with Eastern designs can certainly help one to focus on religious teachings if your motivations for meditation are spiritual.
Once you have found your focus, it is important to realise that the paraphernalia and trimmings associated with meditation are not central to the attainment of calm within yourself. Once you have attained a solid and stable meditation routine and have achieved a mindfulness, you are ready to leave behind an attachment to specific places or objects and carry inner calm with you wherever you go.
You might also like...