Ashrams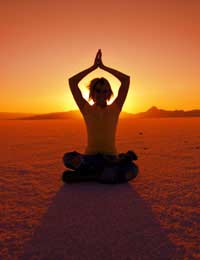 Ashrams are large communal spiritual centres where people meet and live together in pursuit of spiritual enlightenment. Some ashrams are led by a spiritual leader or guru, whilst others are more orientated around an ideal, yet have no 'leader' as such.
People often go to an Ashram for just a number of days or weeks, whilst others go for a much longer, sometimes even taking up personal residence there.
Traditionally Ashrams are associated with dedicated Hindu and yogic practice and served as a place of hermitage, where dedicated spiritual followers could get away from the bustle of every day life in order to focus upon their spiritual calling. In this sense an ashram is little different from a Christian monastery.
Since the spread of interest in Eastern mysticism throughout the West, Ashrams have become international meeting places, often associated with the crossover between 60's style Western ideals of freedom, peace and love and the genuine spiritual concern that extends back to early yogic tradition.
The Western influence in Ashrams has maybe led to them often being confused with hippy communes, where sexual promiscuity and drug taking are prevalent. Truthfully, drug taking and sexual deviance have always formed some aspect of spiritual development for some people, with the latter being open to abuse where spiritual groups are secretive and hierarchical in nature. However, the right Ashram for you will probably teach abstinence from sex and drug/substance taking for the duration of your stay, in order to better help you focus upon meditation and/or prayer.
Much of the confusion between eastern communal spiritual living and Western beatnik ideals is due to ignorance and to the fact that so may artists and musicians during the 60's took on wholesale images and icons associated with the Ashram with no real regard for their meaning. You Ashram experience in reality is likely to be as different from the communalism of sixties San Francisco as the Western world is from the Eastern world in general.
Controversy
Whilst some Ashram's attract controversy due to the huge influence that some spiritual leaders exercise over their followers (as, arguably, in the case of Sathya Sai Baba's Ashram), Ashrams are often a safe means of meeting others on a spiritual journey and of getting away from distractions that may otherwise impede your spiritual development.
Choosing an Ashram
Ashrams are based all over the world and vary greatly in style. Essentially, there is little to fear in an Ashram as such, but you may do well to choose a relatively straightforward one that allows you to follow your path without having to adhere to ideas foreign to you. In this sense, it is swell worth considering time spent in a U.K. Ashram, such as the 'Ashram and Holistic Retreat Centre' in Glastonbury. This may be more expensive than an Indian Ashram, but it is a good place to start if you are relatively new to meditation and yoga.
Once you have chosen an Ashram you can expect to live relatively humbly for the time you are there. Morning starts are usually early, and a regime of dedicated meditation is usually followed for the time you are there, alongside teachings and readings. Some Ashrams may encourage participants to do precisely as they wish, whilst others will require spiritual practitioners to take part in a stricter regime.
You might also like...