How Should You Sit Stretch?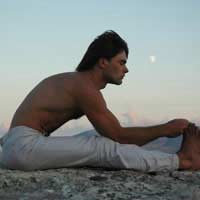 A sit stretch is a simple way of reducing muscular tension whilst exercising good breathing practice and can be performed relatively easily several times a day though no more than 5 times in one session. It is notable for exercising a vast array of muscles, helping to induce greater suppleness. It is also easy to perform shortly before or after meditation due to its not being dependent on equipment and its being performed in a seated position. The sit stretch, performed in a relaxed manner can be an excellent form of practicing mindfulness and an awareness of the link between breathing and bodily health.
The sit stretch can be performed alongside other stretches and should not be performed by people with muscular injuries, especially back pain. A course of light Yoga or Pilates is most advisable in alleviating either of these ailments.
Sit Stretching
Sitting on the floor with your legs crossed initially extend one leg fully, followed by the other. Keeping your legs flat and feeling the tension I both of them abate over a period of 10 to 15 seconds lower you back and extend your hands fully to reach and hold your ankles. Hold this position for 10 to 15 seconds, holding you breath as you do, and gently exhaling as you rise. Rest for 15 seconds. In your upright position inhale and hold your breath again, before repeating the stretch, exhaling as you reach back towards your feet.
If you find this a strain, you can make the exercise easier by extending your arms only to halfway up your calf and holding your legs, and by taking longer breaks before repeating the movement. If performing the sit stretch before or after meditation, it is important to let breaths occur naturally and to avoid breathlessness, as breathlessness will induce stress, rather than reducing it.
As you perform the sit stretch be sure to notice the conjunction between your breathing and your bodily movement. The stretch is made undoubtedly easier for the deep breaths that are taken. This occurs as deep breaths supply the body with greater amounts of oxygen increasing the flow of blood to all of your limbs and increasing overall flexibility. With this borne in mind the importance of clear and steady breathing is demonstrated: If this exercise is conducted properly, neither the breathing or the movement of your body should cause any difficulty. The steady repetition of such an exercise goes to show how little strain is needed to even perform what appear to be difficult movements.
The sit stretch (sometimes referred to as the 'V - Stretch') can be performed several times daily and is best experienced in a similar way to meditation with the mind shut off form the surrounding world and with a full appreciation of the moment. Such an exercise is particularly useful for preparing oneself for meditation as it loosens the main muscles that the support the body, in the legs and back, making self support during meditation easier.
You might also like...