Meditation Music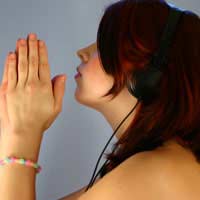 Meditating to music is no doubt as old a phenomenon as meditation itself. Harmonic composition can help to focus and balance the mind providing a channel through which one can express their devotion. Music, due to its rhythmic beat can also help one to concentrate on the rhythm of their breathing, a mantra or a phrase. Across the major world religions and Buddhist practice, music is a central part of ritual, as a call to prayer, a form of prayer recital, to accompany meditation or merely to bring people closer together.
The process of learning an instrument and performing music is not dissimilar from meditation, relying on intense concentration upon musical themes and phrases. It is also true that to play an instrument involves a certain letting go of oneself and feeling an interconnectedness with the surrounding world and universe. Musical sounds are the resonation of sound waves travelling through the air and reacting inside the human ear. In this sense, music is not something merely played on an instrument or CD player. Rather, it is something that humans interact with, meld, and are melded by. Taking ideas like these into account, many musicians, such as John Cage and Karlheinz Stockhausen have made music specifically with meditation and Eastern thought in mind.
Meditation to Music
If you wish to meditate to music it is worth taking some time to consider what music would best suit you. The duration of the track or tracks you would like to listen to is a primary concern, as this will effect the duration of your meditation. If you wish only to undertake a fifteen minute meditation then a homemade cassette or CD comprising just (about) 15 minutes worth of music will be ideal. It is also worth considering whether you wish to meditate on the same piece of music over a number of sessions. It is advisable to focus on one piece, or at least a small number of pieces; too many and your routine will become confused.
Certain types of music seem to lend themselves to meditation better than others. Music deliberately produced for the sake of devotion is particularly well suited to meditating, classical and ambient music is also very good. It is best to avoid aggressive and negative forms of music such as heavy metal, punk, house and drum and bass as these styles are not conducive to clearing the mind!
When you have settled on a suitable piece of music to meditate to you can choose to either meditate in a formal manner, seated and focusing on your breathing, or in a less formal manner, laying down and letting thoughts drift away until you are aware only of the music and the sensations that the music invoke within yourself. This can be a very simple and intensely rewarding form of meditation that for many people comes quite naturally. It seems that, when listening to music we are often existing in the moment, which is perhaps what makes music such a fundamental part of both religious worship and secular life.
You might also like...