Meditation, and Body Awareness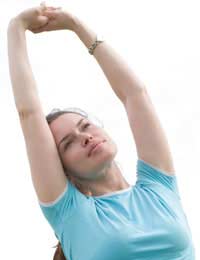 Meditation is not a purely spiritual and intellectual pursuit and viewing it as such is likely to be to the detriment of your overall wellbeing. Developing an awareness of your body is in fact, central to meditation itself, and good practice is definable as that which encompasses all aspects of your being. As the final intention of meditation is to reach a lasting realisation of your connectedness with all beings it follows that their must be an initial realisation of the connectedness of the different faculties of your person.
Developing Body Awareness
Developing body awareness involves developing an awareness of the solidity of ones body whilst realising its connection to ones ethereal spirit and intangible mind as well as developing an awareness of the body's ultimate transience.
As you begin to meditate focus on the limbs of the body one by one, feeling the tension in them slowly fade as you relax. Once you have relaxed the ostensibly separate parts of your body individually feel your body as a whole with your breath flowing throughout it from your navel to your head, focusing all the time on the completeness of your body. One variation of this exercise is called Progressive Relaxation .
In doing this you will be able to come to a realisation of the true nature of the body, both as a solid object separate from the mind and as a fluid object connected to the mind. You will also be able to perceive bodily tension as inextricably linked to mental stress, the tension receding and dissipating as the mind fully relaxes.
Meditating for a Better Self Image
In Western society many people are uncomfortable with their bodies and meditation can help to address this issue by simply fostering an awareness of the body as intrinsic to our greater selves, and the world around us.
To a large extent our self perception and that of those around us will depend on our posture, something that can be greatly improved through an increased bodily awareness. One form of bodily self awareness meditation employs positive visualisation to envisage yourself walking confidently. An extension of this involves putting this into literal practice by walking calmly and confidently, with attention to the moment, and to sensations as they occur in the body.
Practicing Body Awareness is a simple and effective way of releasing tension in the main pressure points of your body, and so is particularly apt in contemporary Western society where repetitive use of limbs during work often leads to muscular pains, which whilst being due to physical exertion, is also due to a build up of stress which can be tempered by meditation. Body awareness meditation can help to relieve stress in the most common build up points: the neck; back; shoulders; ankles, knees and thighs.
By becoming aware of your body you will be able to live comfortably with it, rather than seeing it as either as something to cling to, ever fearing aging, or as a cumbersome appendage that interferes with spiritual or intellectual endeavour!
You might also like...