Why do we Stress?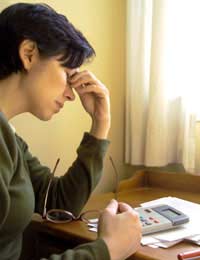 When embarking on a course of meditation, whether as a spiritual journey, or as a general lifestyle decision it is important to identify the causes of stress as they relate to us. Spiritually speaking, this should allow you to let go of worldly concerns that will hamper your journey, whilst from a lifestyle point of view you will be able to come to a better understanding of yourself, making relaxation and positive empowerment easier.
In considering the factors that make us stress it is possible to break these down into three groups: Spiritual Factors; Physical Factors; Personal Factors. Spiritual Factors are those that concern our outlook on life and needn't be 'spiritual' in the religious sense.
Physical factors are those concerning the human physiology and cover the specific physical and cognitive mechanisms of stress. Both of these groups of factors are general to all people. Finally, personal factors are those that specifically relate to the individual either at a particular point in their lives, or more generally as a result of past experience or physiological makeup.
By considering these aspects individually it is possible to start honestly assessing the factors that cause one personal stress, thereby making the process of meditation more effective in conjunction with everyday life.
Spiritual Factors
The term 'spiritual' though normally applied to feelings and experiences of a religious or otherworldly nature is, in its widest sense, applicable to the range of phenomena that make up our sense of 'self'.
Spiritual wellbeing involves, therefore, a healthy and realistic view of one's 'self' in relation to the wider world. Just as with Buddhist or Christian spirituality, a realistic view of one's self involves, from a psychological purview, a sound concept of the self as it relates to both the time and space we live in. A lack of 'self worth' in light of the passing of time, our physicality, the physicality of objects around us and our relationships with other people is a major trigger of stress.
Chiefly, psychologically speaking, it is considered that ill feeling arises from an over dependence on 'things' and 'beings' (usually other people) and a failure to let go of them, along with a preoccupation with bad past experiences. Many religious groups and spiritual belief systems argue the same point, believing that a realisation of our own small part to play in a much wider physical and temporal reality, which we cannot control, is essential to spiritual wellbeing. Conversely, it is essential to develop a confidence in one's being and the positive contribution we can make despite our isolation as separate mortal beings.
Leading a stress free life, in this sense, involves letting go of life in the day to day (and of past impressions) and just 'rolling with it'. Concentrated meditation in a variety of forms is believed by Western psychology and spiritual groups alike to be useful in fostering this kind of attitude.
Physical Factors
There are a range of physical factors that can affect our stress levels. As our brains and bodies are interlinked the performance of the body can affect the mind and vice-versa. Physically speaking, fear responses, in the widest sense, are responsible for triggering stress. Though at the same time it is possible to argue that having a poor mental or spiritual attitude can in itself trigger a fear response. If you are prone to fear responses (such as shallow breathing, increased pulse rate, sweating, poor co-ordination and loss of perspective) it is worth attempting to foster a more positive sense of self, through meditation.
From day to day, when confronted with stress it is useful to adopt a technique for coping, such as the 'Instant Calming Sequence' (see related article). Other physical factors that may contribute to increased stress are a poor diet, lack of sleep, a poor posture, poor breathing (which can be corrected through meditation exercises), smoking, consumption of caffeine, consumption of alcohol and drugs. The body needs certain nutrients to function well, whilst drugs such as nicotine, alcohol and caffeine naturally weaken the body and mind, leading to increased nervousness, poor quality of sleep and low self esteem.
Overall the body tends to tense, ready for action under stress. This is a specific response relating to the situation of humans during their development as hunter gatherers and warriors. The main thing is to remember that if you experience physical stress symptoms there is nothing wrong with you. Quite simply, human society has evolved far quicker than our stress mechanisms: Meditation and a good diet can help you to control these symptoms and maximise your health.
Personal Factors
Everybody experiences and has experienced personal factors that cause particular mental discomfort for them. For some people these factors are minor and are easily dealt with, for others they are a major cause of distress. In dealing with these problems it is, above all, necessary to be honest with one's self. It is not pleasant to deal with discomforting thoughts, yet those thoughts will actually build up and may become out of control if they are not dealt with.
For problems that are in the past but still bother you, it may be useful to talk them over with a friend, or to seek counseling, psychotherapy or Cognitive Behavioural Therapy. Meditation can also help as it engenders the capacity to live in the moment rather than clinging to the past. As for problems that arise, such as relationship break ups, money problems, loss of employment and bereavement it is useful to see the issue in perspective: The world will not fall down around your ears all of a sudden, but it may happen gradually if you do not develop a healthy world view and sense of self! Many uncomfortable situations are really just an inevitable part of life and 'letting go' of what might have been is key to health and happiness, though in cases of bereavement it is also important to allow time to heal.
As for personal physical factors, such as general poor health, disease and personal injury, it is, of course, worth seeking the medical help available to you. In addition to this, meditation can help you to a better acceptance of your physical condition, whilst you focus on your strengths.
A broad identification and honest appraisal of all the factors that induce stress can enable one to develop a stronger sense of self and a more comfortable interaction with both the passing of time and the world around us.
You might also like...