How to Relax the mind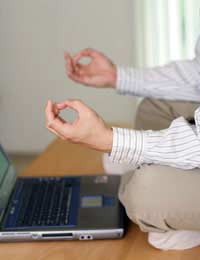 Relaxing the mind presents itself as something of a problem in modern Western society, purely because it is so at odds with what is required of us in our day to day activity. To be completely relaxed throughout the day is often seen as beyond possibility and quite undesirable when dealing with common challenges. However relaxing is actually incredibly simple by its nature and is often conducive to a higher performance in one's everyday life than if one is to proceed in an aggressive or tense manner.
One myth that prevails in Western society is that achievement must always come at a price, demanding concerted effort. This has two negative results. Firstly, it is overlooked that when we are in a relaxed state we are often more ready to adequately respond to pressure than when we are stressed. Secondly, it is often taken that even relaxation must involve some kind of financial, mental or physical output, when in actual fact it is often best achieved for the absence of any deliberately focused activity. Interestingly, with regard to this second point it is worth considering that the mind itself tends to want to do precisely what we tell it not to, or to not do what we ask it to do when under pressure. Like an obstinate child, the mind will tend to do precisely what it is asked not to for one simple fact: the subconscious mind does not register information in the same way that the conscious mind does.
If you have ever been in the position of giving up smoking (or something similar; chocolate, alcohol, etc.) you may have found that the more you tell your self 'Don't Smoke!,' the more liable you are to start. This is quite clearly because all the time you are focusing on not smoking, you are thinking about smoking! Similarly, all the time you are berating yourself for not relaxing, you are focusing on not being relaxed. The constant order that you issue from your conscious mind to your subconscious becomes reversed as it is communicated. There is a simple resolution to this problem. Instead of telling yourself to relax, simply tell yourself that you are relaxed, and you will be! Your mind is your mind and everything you tell it is what you are thinking.
Relaxing the Mind Throughout the Day
As meditation is not purely an exercise to be carried out once a day and then left aside, but is rather a way of thinking that can be carried throughout the day, it is a good thing to be able to relax your mind at any given point. One of the most effective ways of doing this is to 'clear' the mind as far as possible of all interference. Commonly, at our most stressed, the mind will race with dozens of possible scenarios, none of which are actually happening at that very point. Considering these (often negative) scenarios merely gives power to negative situations and will highly likely land you in them!
When under pressure it is useful to take several deep breaths and let a wave of positivity, visualised as an intense light, or felt as a positive warmth slowly moving through you. In this way it is possible to let negative emotions move through you, without grasping them. Problems when they arise should be treated much like 'water off a ducks back'; ducks are waterproofed to better glide along their course - through the regular practice of meditation and the daily appreciation of the moment you will gradually become capable of letting stresses glide over you as you steer a course through life.
It is also useful to hold in mind the premise that relaxation is the simple letting go of things around you. Whilst you can hold on tight to ideals, people or even fears as a means of protecting yourself, you will really gain nothing from doing so as life will continue around you regardless. What you really will have achieved in doing this is letting go of all the opportunities that present themselves from one moment to another! By simply letting go of thoughts and feelings as they arise you will become naturally relaxed and better equipped to deal with scenarios as they become present.
There are a large number of exercises available to help relax the mind, many of which are detailed on this website. However, it is really a case of finding what is best for you. Often systems stand to add further restrictions and stresses to your pattern of thought. It really is just a case of trusting in your ability to let go, and once you've done it a few times it will come naturally from there!
You might also like...