Office Yoga: Is it Practical?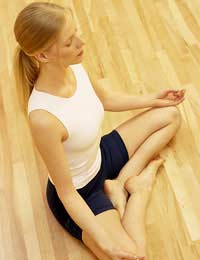 Office yoga? A mad suggestion or a great idea?
As our workplace becomes more and more sedentary and people are spending longer and longer hours at desks and in front of computers, it is not surprising that they are suffering from various symptoms such as back and neck pain, repetitive stress injuries, physical discomfort and even mental burnout.
All these problems lead to greater stress and even illness, which in turn leads to reduced productivity for employers. It is no wonder then that companies have been looking for ways to reduce employees' stress and physical discomfort – and it seems that office yoga may be the answer.
Unnatural positions - unhealthy tensions
It is hardly surprising that maintaining your body for long hours in the same positions while often engaging in stressful mental tasks – the norm in most workplaces and offices – can lead to stresses and strains that affect your overall body. In fact, the human body is not designed for remaining in the same position for long periods, such as tilting our heads and craning our necks to stare at the computer screen – nor is it designed for the repetitive actions that often come with office work, such as operating a mouse.
Your body needs periodic movement to enable muscles and ligaments to stretch and toxins to be released, so that they can be carried away by the bloodstream and flushed out of your system. When you are unable to do this, your muscles will tighten and sometimes even cramp up, with the pain and discomfort causing you to tense your body even further – and set up a vicious circle. If you remain in this sort of state for prolonged periods, it can place a serious strain on your overall health.
How yoga can help
Yoga can help release the stresses and tensions of prolonged work positions in several ways. The movements help restore good circulation, thus bringing better bloodflow to all parts of the body, including the brain – which leads to clearer thinking, more efficient work and better productivity. The stretches and movements also help to elongate and relax muscles held in certain positions for too long, thus alleviating the aches and pains caused by tight muscles and repetitive usage patterns.
The stretching and breathing also help to re-align the body and restore good posture. Finally, the act of rhythmic breathing itself helps to calm the mind and improve your ability to focus, as well as contributing towards stress reduction. In fact, the type of deep breathing associated with yoga is directly opposite to the shallow breathing that most people often unconsciously use during times of anxiety and tension.
But can you do yoga in the workplace?
Many believe that to do yoga you need a specially decorated "zen" room with yoga mats and chanting…and wonder how this could be compatible with the typical workplace. In fact, this is a misconception. Yoga can be successfully practised in a variety of settings and situations – it can even be done without leaving your desk or your work cubicle. The important thing is breathing in tune with the postures and keeping your body relaxed.
One simple but effective yoga posture which can be easily done at your desk or work cubicle is the following:Sitting up tall in your chair, so that your spine is straight and you feel as if you are being pulled up into the ceiling by a thread through the top of your head. Relax your shoulders, drop your shoulder blades and breathe in through your nose and gently out through your mouth. As you breath out, pull your belly in. Repeat 3 or 4 times. Just by doing this simple yoga posture will help relieve a lot of the tension in your head, neck and back.
Such a simple yoga posture takes less than 5 minutes to perform and so there is really no excuse and no reason why yoga cannot be performed at the workplace, without disrupting any of your colleagues – while letting you reap the benefits.
You might also like...