Boardroom Meditation: the New Revolution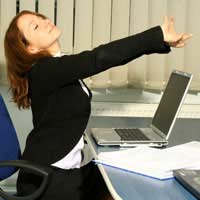 Think that meditation is only for chanting monks in saffron-coloured robes or vegetarian hippies in tie-dyed clothing? Think again. Meditation is now moving into the boardroom with many corporate executives are embracing it with enthusiasm and seeing the benefits.
Work stress
When you think about it, meditation in the workplace actually makes a lot of sense. After all, we all spend up to a third of our waking lives at work and studies have shown that jobs contribute significantly to the stress levels in our lives, leading to a variety of symptoms from headaches and high blood pressure to insomnia, rashes and digestive problems. Long term, it has even been linked to the development of cardiovascular disease, musculo-skeletal problems and even mental illness.
Stress is something to particularly watch out for if you happen to work in one of the industries which record the highest levels – such as finance, transport, education, healthcare and the police force – and it is also something that is coming to significantly affect all of us, no matter what our job is, since the global recession with people working overtime, skipping lunches, worrying about job security and paying their mortgages.
Not just a personal problem
In fact, workplace stress is estimated to cost national economies billions annually, either through absenteeism or poor productivity, and employers are beginning to realise that if they do not invest in stress-reduction programmes for their staff, they could be suffering in their purses. More and more companies, therefore, are starting to look into different ways to promote staff well-being and many are finding that meditation provides the perfect answer.
A simple answer: meditation
In fact, a recent 2009 study by the University of NSW in Australia showed that occupational stress was reduced by 26% after just 8 weeks of silent meditation and that workers only need two 10-minute meditation sessions a day to see improvements in their health.
The great thing for organisations is that once the basics are learnt, meditation can be done for free, without the need for any specific equipment and in a variety of settings.
A growing business trend
As more and more businesses are starting to realise the benefits of meditation, meditation groups organised by the human resources department are becoming more popular and more employees are taking advantage of them, often in their lunch hour.
Corporate coaching companies that work with big organisations, such as banks and government corporations, have noted an increased demand for meditation workshops. And as people realise that meditation does not have to involve spiritual or religious chanting, reciting mantras or even have to be done in a group, they are embracing this method of distressing which can be done alone, for free, at a time to suit you. You don't require extensive training – once you learn the basics, you can practise on your own and you become better at it just by doing it regularly. All can benefit, even the toughest, most self-sufficient staff, and even just 10 minutes of meditation at the start of the day makes a huge difference in improving concentration, calming the mind and recharging energy.
Not just calming but also focusing the mind
Many who started meditating in the workplace were pleasantly surprised to find that not only did meditation help them to de-stress and calm their minds but it also helped them concentrate and work for longer periods! They found that they were better at recognising and letting go of distracting thoughts - and less tempted to check emails or have coffee breaks. This mean they were able to focus on their work and sit still for longer periods – leading to much greater productivity.
You might also like...