Which Meditation Equipment is Best for You?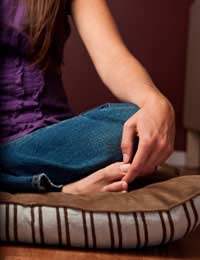 Like many other things, deciding which type of meditation equipment is best for you depends largely on what kind of meditation you are planning to practise. This can then determine the postures, positions, atmospheres and environments you will need to cultivate and thus the types of meditation you're likely to need.
Obviously, the most important – and some would argue, the only – thing you really need for successful meditation is an open, aware, receptive mind. But it is much easier to achieve this state through the help of various types of meditation equipment. This need not be some fancy contraption – for example, if you practise walking meditations then the equipment you will need the most is a pair of comfortable, sturdy shoes. Even if you already own a pair, if you plan on doing walking meditations regularly, it may be worth your while investing in a second pair of comfortable walking shoes.
Meditation Altars
Although the word "altar" has religious connotations, there is nothing religious about this piece of equipment. It is simply a place especially set aside where you can direct your meditative efforts. A meditation altar is usually located in the room or corner of your home where you can practise your meditation in peace. The altar can be a small table, bookcase or anything else that can be used. It can be attached to the wall or free-standing. But most importantly of all, it should reflect your personality and what helps you to feel more comfortable and relaxed. It is a place where you can reflect and contemplate life. It can be helpful to place items that have deep symbolic meaning for you and are important in your life – whether its photographs, special writings and phrases, decorative objects, even incense and candles – anything that helps to remind you of you meditation goals.
A meditation altar might be a good piece of equipment for you if you find it hard to get into a regular routine of meditating, as the positive symbol of the altar every time you see it will help to establish a ritual for meditation.
Meditation Cushions
Meditation cushions – also known as 'zafu cushions' – are specially designed seating cushions which provide you with support and comfort when you are sitting on the floor to meditate. For many people, especially Westerners, who have stiffer hips, sitting in a cross-legged position for prolonged periods can be very uncomfortable. And if you are feeling your legs or back going numb or finding it painful to sit down on the floor and adopt the right posture, then this can distract you from your meditation. A meditation cushion therefore helps you maintain the proper posture for prolonged periods, especially when you are sitting in a position where you back isn't supported. They can also help to keep your spine aligned and stabilise your back. You can even use meditation cushions if you're adopting a kneeling meditation pose.
Meditation cushions would be a good equipment choice for you if you're planning to spend most of your meditation time sitting on the floor and struggled to get comfortable in the traditional cross-legged position without any support.
Meditation Beads
Meditation beads, often called "mala beads" are 108 beads strung on a string, with one bead at the summit. The beads are usually made of natural materials like sandalwood, basil ("tulsi"), rudraksh seeds or crystal. The beads are held in a certain way and each bead is moved in rhythm with your breathing and the mantra you are chanting.
Meditation beads can be a very helpful piece of equipment if you find that your mind always keeps wandering during meditation, causing you to lose concentration. The meditation beads act as a sort of "anchor" or grounding point to enable you to focus better.
Meditation Music
Meditation music can be any type of music which helps to lull you into a calm, relaxed, meditative state. The type of music will vary depending on personal taste but it is often simple, instrumental pieces or soothing sounds of nature, such as whale songs, although chants can also be popular.
Using meditation music is a very personal choice – for some people, it enhances their meditation experience while for others it completely distracts them, no matter what kind of music is used. In those cases, complete silence would be better.
When it comes to deciding which type of meditation best suits you, it may be simply a case of trial and error. With certain things, such as meditation music, it is impossible to know how it will affect your meditation until you try it. In many cases, recommendations by other experienced meditators can help greatly in your selection.
You might also like...